Meat Loaf | Bat out of hell | Obituary
Obituary – Meat Loaf – Bat Out of Hell singer known for his powerful maelstrom of sound and spectacular live shows
Meat Loaf was a singer known for his top-selling album "Bat Out of Hell" and for songs including "Paradise by the Dashboard Light" and "I'd Do Anything for Love (But I Won't Do That)."
Meat Loaf's bombastic rock operas catapulted him to the status of musical icon.
His breakthrough album, Bat Out Of Hell, is one of the best-selling albums of all time.
But beneath the public face of the hard-rocking extrovert was a man who professed to be a shy and retiring individual.
Off stage, he was actually a non-smoking family man, who'd never owned a motorbike and was "constantly on a diet".
He was born Marvin Lee Aday on 27 September 1947 in Dallas, Texas – the son of an alcoholic police officer.
His mother was a school teacher who sang in a girls' gospel quartet; she instilled a love of performing in her only child.
The singer told Oprah Winfrey in 2016 where the name Meat Loaf came from. "I got it when I was four days old," he said. "Not the Loaf part, just the Meat, because I was born bright red.
"The doctor suggested they should keep me in the hospital for a few days and my dad said, 'He looks like nine-and-a-half pounds of ground chuck [meat]. I want you to put a name tag on the front of that plastic crib with Meat on it.'"
The second part of his name arrived when he was in school, in eighth grade. "I stepped on a [football] coach's foot, and he screamed, 'Get off my foot you hunk of meat loaf!'"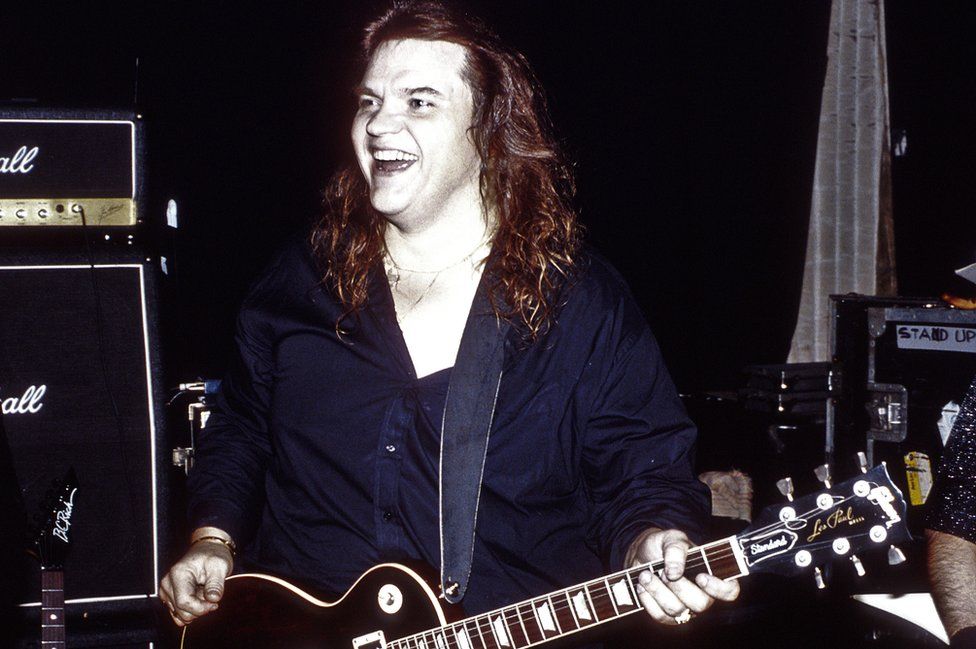 Although he played football, he was more at home with the dramatic society. When his mother died prematurely, he left Dallas, and his combative father, to forge a career in music.
In his new base in Los Angeles he formed a band, Meat Loaf Soul, and his distinctive voice, which ranged over three octaves, brought a number of offers of recording contracts.
The band, which underwent a series of name changes, was good enough to open for a number of top acts including the Who, The Grateful Dead and Janis Joplin.
Meat Loaf quit the band to join the cast of a touring production of the musical, Hair, a role that led to an offer to record with Motown Records.
Rock Superstar
Meat Loaf (born Marvin Lee Aday) was a rock star best known for his 1977 album "Bat Out of Hell," one of the best-selling albums of all time. He was an actor and a singer in various rock bands and duos that skirted with success. He was in the cast of the original L.A. Roxy musical "The Rocky Horror Show," playing Eddie and Dr. Everett Scott. He then played Eddie in the enduring cult film version "The Rocky Horror Picture Show," released in 1975. Meat Loaf met songwriter Jim Steinman (1947–2021) when he performed in Steinman's musical "More Than You Deserve" in 1973. The two collaborated on the operatic rock album "Bat Out of Hell," which was produced by Todd Rundgren. The release became an international hit, selling more than 40 million copies and featuring the songs "Paradise by the Dashboard Light" and "Two Out of Three Ain't Bad." The duo found success again with the 1993 sequel album "Bat Out of Hell II: Back into Hell," which featured the international number one song "I'd Do Anything for Love (But I Won't Do That)."
As an actor, Meat Loaf had roles in "Leap of Faith," "Wayne's World," and "Fight Club."
Notable Quote
"This is what people don't understand. Anybody in their right mind would not have chosen that, okay? My father started calling me that when I was a kid. When I went to the first grade, my teacher said, 'Meat, sit down.' I would go to church and the minister would say, 'Meat, we're glad to see you here.' I can't win. But I don't think it's any funnier than other people's names. Start saying 'Bruce Springsteen' over and over again. Everybody's name is weird." – on his nickname in a 2003 interview with Entertainment Weekly
Date of birth: September 27th 1947
Date of Death: January 20th 2022 (aged 74 years)
Sources:
BBC – https://www.theguardian.com/music/2021/apr/22/steinman-obituary-bat-out-of-hell
Legacy.com – https://www.legacy.com/news/celebrity-deaths/jim-steinman-1947-2021-paradise-by-the-dashboard-light-songwriter/
https://www.funeralhub.org.uk/wp-content/uploads/2022/01/4535.jpg
420
700
admin
https://www.funeralhub.org.uk/wp-content/uploads/2021/03/twilight-group-v3-300x93.png
admin
2022-01-27 14:27:56
2022-01-31 09:43:51
Meat Loaf | Bat out of hell | Obituary